09-02-2015 09:14

Breen/Martin victorious in Rally Liepāja despite difficult conditions

Rally Liepāja, the second event in the 2015 FIA European Rally Championship calendar, proved to be a tough rally, with the continuously changing weather conditions catching out even the most experienced drivers. Peugeot Rally Academy crew Craig Breen / Scott Martin adapted best to the local roads and came away with a win.
Before the rally, the locally well-known Alexey Lukyanuk was seen as one of the favourites to win, in part because he now has a top specification car in the Ford Fiesta R5. His bid to win was short lived, however, with an accident on special stage two ending his hopes for a good result. Last stage of day one brought sadness to all the Polish fans, as their favourite, and winner of the first ERC rally of the season, Kajetan Kajetanowicz (Ford Fiesta R5) made a mistake and had to retire as well. With the two main rivals retired, Breen / Martin managed to secure a comfortable win by successfully completing their goal – maintaining the lead that they got in day one.
Though, what a show Lukyanuk and Kajetanowicz brought to all the spectators alongside special stages. With the cars fixed overnight, Rally Liepāja day two saw a return of both drivers, who then managed to win all the Sunday stages with Kajetanowicz being fastest in the opening stage, followed by five consecutive stage wins by Lukyanuk.
"This was a very difficult rally and I'm very happy to bring home the victory. We had a very consistent pace without any large mistakes, and since the lead was so large on day two, it was possible to go a bit slower and not take any unnecessary risks. In these conditions, however, it was possible to make mistakes even when not driving at full speed, but everything turned out great and we reached the finish without any issues," said Breen, who won Rally Liepāja on his third attempt.
"We had great pace on day two of the rally, which shows that a very good finishing position would have been within reach if not for the mistake on special stage two. Some tweaks were made to the car for the second day, but we now see that there is even more room for improvement!" said Lukyanuk.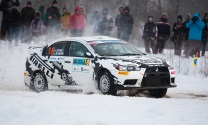 Siim Plangi and Marek Sarapuu (Mitsubishi Evo X) were second overall and first in the ERC2 class, finishing 1 minute and 40 seconds behind Breen. Third place on the podium was reached by Dominykas Butvilas / Kamil Heller (Subaru Impreza STI), who spent the second day in a close battle with two Latvian crews – Mārtiņš Svilis / Ivo Pūķis and Jānis Vorobjovs / Andris Mālnieks (both with Mitsubishi Lancer Evo X), who finished fourth and seventh, respectively.
Three-times Latvian champion in R2 group Ralfs Sirmacis was the recipient of the prestigious Colin McRae ERC Flat Out Trophy. Sirmacis became the first Latvian driver to receive this prize.
Opening round of the ERC Junior Championship and ERC3 classes were won by Emil Bergkvist and Joakim Sjöberg (Opel Adam R2), who were 30 seconds in front of Steve Røkland / James Aldridge (Peugeot 208 R2). Latvian crew of Ralfs Sirmacis and Artūrs Šimins (Peugeot 208 R2) finished third.
"This is an unbelievable result, and I would like to thank all my team for making it possible. Battles with rivals were very tough and the stages, especially on day one, were difficult. However, we have not only finished, but won! Hopefully this is a result that we will be able to repeat in the following rallies as well," said Bergkvist.
The bronze medalist in 2014 World Rallycross Championship in Supercar class, Reinis Nitišs, had a successful rallying debut. While he did get a puncture on the very first stage of Rally Liepāja, from there on out he showed a very consistent pace and his times were among the top 10 in his class. "I started out a bit too quickly and made a small mistake in one corner, resulting in a puncture. This was a very good lesson for me on the first stage, after which I managed to drive consistently and achieve my main goal of reaching the finish. For that, I would like to thank my experienced coach and co-driver Māris Neikšāns, as well as Sports Racing Technologies. Rally Liepāja was a great experience, which is sure to help me in preparation for the upcoming rallycross season," said Nitišs.
Latvian Rally Championship third event also took place on Sunday and was won by Lukyanuk, with second place (and first in LRC2 class) going to Plangi, followed by Vorobjovs. In what came as a bit of a surprise, 17 year old Nikolay Gryazin (Peugeot 208 R2), in just his third rally, managed to win the popular LRC3 class.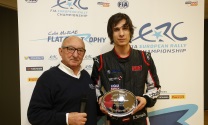 Multiple special prizes were given out today as well. The Liepāja city prize for the fastest time on SS8/11 Liepāja Iedvesmo – Liepāja Inspires, was won by Alexey Lukyanuk / Yevhen Chervonenko. Kuldīga city prize for being fastest in SS2/4 Kuldīga went to Breen / Martin. Neste Oil prize for being fastest on SS1/5 Neste Oil was given to Mārtiņš Svilis / Ivo Pūķis, while Guntis Liekājis / Vilnis Miķelsons took home the Sporta Bārs Optibet prize for being quickest through SS6/9 Sporta Bārs Optibet. BTA gave out a prize to the fastest crew with a Latvian rally license, which was Mārtiņš Svilis / Ivo Pūķis. The rally organizers, RA EVENTS, gave a special prize to the fastest 2WD crew not registered for ERC, which went to Toms Lielkājis / Toms Pirktiņš.
The FIA European Rally Championship event Rally Liepāja is possible because of the support of the government of Latvia and the rally city Liepāja. We would also like to thank our sponsors Neste Oil, Sporta bārs Optibet and Vivus.lv, and our partners – the city of Kuldīga, rally centre at Liepājas Olimpiskais Centrs and rally insurer BTA – as well as our supporters Canon ibServiss Liepāja, SweCon, Baltijas Helikopters and Castrol. Information about the rally is available on the official news portal DELFI, rally radio StarFM, as well as Top Gear Latvija, Kurzemes radio, Ātruma Cilts and Rietumu Radio. We would also like to thank the valuable support by Rally Liepāja friends at: Ramirent, RedBull, Dardedze, Torley, Jānis Pūce, Ecorent, Guard Systems, N&J, Kurši, FN Serviss, Liepājas Datoru Centrs, SignTech, Sidusnet, Aspasia, Skrīveru Saldumi and Grandeg.
Jānis Unbedahts, RA EVENTS. Photo: go4speed.lv, FIERC.COM