07-02-2015 22:28

Craig Breen leads rally Liepāja after leg one

The first five Special Stages of Rally Liepāja took place today, with Craig Breen and Scott Martin (Peugeot 208 T16) currently in first place with a healthy 1 minute and 23 second gap to Siim Plangi and Marek Sarapuu (Mitsubishi Evo X). Lithuanian crew of Dominykas Butvilas and Kamil Heller (Subaru Impreza STI) are currently in third, 4 minutes and 4 seconds off the lead.
Today's slippery Kurzeme region roads turned out to be a real test of driving skills for a lot of crews, including some of the favourites. Alexey Lukyanuk and Yevhen Chervonenko (Ford Fiesta R5) set the fastest time on SS1 Neste Oil 1, but made a mistake on SS2 Kuldīga 1 and had to retire for the day. Lukyanuk later mentioned that the mistake was in a slow part of the stage, and was mostly caused by the lack of experience behind the wheel of an R5 class car. The lead was quickly taken by Craig Breen, who set the fastest time on the remaining four special stages of Leg 1. SS5 Neste Oil 2 turned out to be unlucky for the current ERC championship leader Kajetan Kajetanowicz (Ford Fiesta R5), who was second overall before retiring on the stage with a broken wheel.
"The driving conditions were very difficult today with the road being extremely slippery, resulting in multiple situations where it was very tough to stay on the road. Still, the day went well and we are currently leading the rally, even though tomorrow is going to be a long day and everything can still change," said Craig Breen after completing day one.
"I am very happy with my result in day one, as we have successfully reached the finish and have also managed to win the second event of the Latvian Rally Championship. Our goal tomorrow is to keep this pace and reach the finish. Despite the difficult conditions, we managed to save our tires, and will not have to worry about them tomorrow," mentioned Siim Plangi.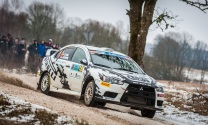 Mārtiņš Svilis and Ivo Pūķis (Mitsubishi Lancer Evo X), who, despite an illness, were able to reach 6th place overall, are the fastest Latvian crew at the moment. The ERC Junior class drivers have shown a tremendous pace on day one, really battling with the four-wheel drive cars and moving up the overall standings. Emil Bergkvist and Joakim Sjöberg (Opel Adam R2) are currently leading ERC Junior and are a very surprising fourth overall after day one.
FIA World Rallycross Championship driver Reinis Nitišs (co-driven by his coach Māris Neikšāns) also made his rallying debut today. Even though he had a puncture on stage one which cost him a few minutes, the pace was very consistent from there on out, and, driving the Sports Racing Technologies prepared Ford Fiesta R2, Nitišs managed to reach tenth place in ERC3 class in the last three stages of the day.
Latvian Rally Championship round two took place today, with the victory going to Siim Plangi / Marek Sarapuu, followed by Mārtiņš Svilis / Ivo Pūķis and then Jānis Vorobjovs / Andris Mālnieks (Mitsubishi Lancer Evo X).
All race results are available at www.autorally.lv.
Rally Liepāja winners will be decided tomorrow, when the crews will have to tackle the final six stages. First stage of the day, SS6 Sporta bārs Optibet 1, will begin at 8:30, with the last special stage SS11 Liepāja Iedvesmo – Liepāja Inspires 2 scheduled for 13:50. The rally will conclude with an awards ceremony held at Rožu square in Liepāja at 20:30.More news and other information about Rally Liepāja can be found on the official website at www.lvrally.com, and on social media: Twitter @LVRally, Facebook /LVRally and YouTube /RallyLiepāja.
The FIA European Rally Championship event Rally Liepāja is possible because of the support of the government of Latvia and the rally city Liepāja. We would also like to thank our sponsors Neste Oil, Sporta bārs Optibet and Vivus.lv, and our partners – the city of Kuldīga, rally center at Liepājas Olimpiskais Centrs and rally insurer BTA – as well as our supporters Canon ibServiss Liepāja, SweCon, Baltijas Helikopters and Castrol. Information about the rally is available on the official news portal DELFI, rally radio StarFM, as well as Top Gear Latvija, Kurzemes radio, Ātruma Cilts and Rietumu Radio. We would also like to thank the valuable support by Rally Liepāja friends at: Ramirent, RedBull, Dardedze, Torley, Jānis Pūce, Ecorent, Guard Systems, N&J, Kurši, FN Serviss, Liepājas Datoru Centrs, SignTech, Sidusnet, Aspasia, Skrīveru Saldumi and Grandeg.
Jānis Unbedahts, RA EVENTS. Foto: go4speed.lv